WMD Comics Archive
(See All Comics)
Screensaver
Fighting fuzzy math is never an easy battle, but with the Weapons of Math Destruction screensaver, it's never been as enjoyable. Watch all 127 comics blast the insanity of constructivism across your desktop. Help support the ongoing battle to peacefully disarm fuzzy math.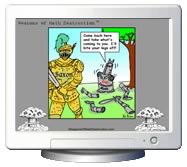 Download the FREE Windows PC demo version of the WMD Screensaver by clicking here
(16 meg file)
(If you enjoy these comics, feel free to make a donation at the link on the left.)
Wallpapers
Here's a few of the favorites as wallpapers for your enjoyment. If you want a particular comic set as a wallpaper, email me and I'll get it posted eventually.
To set one of these as your wallpaper, click the link for the resolution you want, let the image load, then right-click the image and select "set as desktop background".
| | Select Size |
| --- | --- |
| | Select Size |
| | Select Size |
| | Select Size |
Do you like awesome birthday party or holiday activities? Check out my product Riddle Me which lets you generate scavenger hunt clues to entertain your children for hours. Check out the blog for fun things like Halloween scavenger hunts, Christmas present treasure hunts, and Easter egg scavenger hunts.