WMD Comics Archive
(See All Comics)
Official Site of Weapons of Math Destruction
Dedicated to the disarmament of all fuzzy math weapons, this site takes the establishment head-on. The world is a dangerous place and there's no need to walk around in constant fear of some nuclear math weapon destroying your child's education. Join the fight.
The comics have come to the end of their run, but the fight for better math isn't over. Please download the free screensaver with all 127 comics in it, and feel free to make a donation (on the left) to help cover some of the costs incurred with producing this needed relief from the insanity of constructivism.
Must See Videos on Devastating Fuzzy Math (YouTube Link) (Video 1) (Video 2)
This week's cartoon:
(click to see all comics )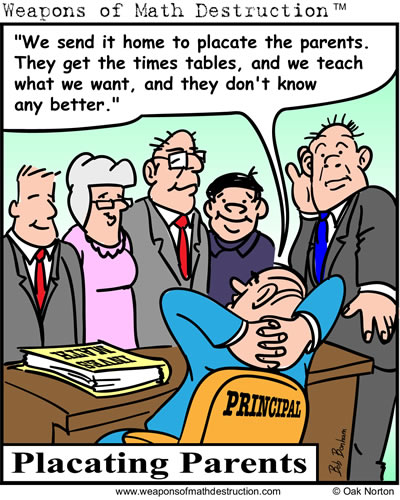 Do you like awesome birthday party or holiday activities? Check out my product Riddle Me which lets you generate scavenger hunt clues to entertain your children for hours. Check out the blog for fun things like Halloween scavenger hunts, Christmas present treasure hunts, and Easter egg scavenger hunts.